Songlist for "Dance of the Vampires"
11/21/2002 - 00:00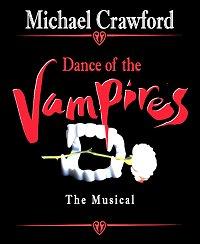 Billy Joel's Movin' Out may not be the only familiar pop song featured at this year's Tony Awards telecast, as the song "Total Eclipse of the Heart" becomes "Vampires in Love" in Jim Steinman's dawning Broadway musical, Dance of the Vampires.
Newcomer Mandy Gonzalez (as the female lead Sarah) will croon the tune — made popular by singer Bonnie Tyler — with the show's headliner Michael Crawford (as Count Von Krolock). Gonzalez was also in the workshop of the now defunct pop-fueled Drive All Night, which featured Bruce Springsteen songs. Previews for the darkly comic new musical begin Oct. 14 at the Minskoff Theatre.
Composer-lyricist Steinman — also known for Meatloaf's "Bat Out of Hell" — told explained the song's inclusion to Playbill On-Line: "That was an accident almost. I'm surprised it stayed in. [For the original production] in Vienna, I had only a month and a half to write this whole show and we needed a big love duet... I remembered I actually wrote ["Total Eclipse of the Heart"] to be a vampire love song. Its original title was 'Vampires in Love' because I was working on a musical of 'Nosferatu,' the other great vampire story. If anyone listens to the lyrics, they're really like vampire lines. It's all about the darkness, the power of darkness and love's place in dark. And so I figured 'Who's ever going to know; it's Vienna!' And then it was just hard to take it out."
When asked if he thought the popularity of the song would hinder its impact in the musical, Steinman responded, "Well, the reaction, at least in Europe, was great. They recognized it, but then it seems — if it's done well — to take on a different personality. I like that combination, even though it's usually the opposite — a song becomes a hit afterward. I just feel any connection between pop music and show music is a positive thing."
The complete songlist is as follows:
Act I"Overture"
Scene 1: A Graveyard In The Woods
"Angels Arise" - Sarah, Nadja, Zsa Zsa
"God Has Left The Building" - Vampires and Sarah, Nadja, Zsa Zsa
"Original Sin" - Krolock, Sarah, Vampires
Scene 2: An Inn
"Garlic" - Chagal, Rebecca, Magda, Boris and the Peasants
"Logic" - Abronsius, with Alfred, Chagal, Magda and Rebecca
Scene 3: Sarah's Room, Upstairs at the Inn
"There's Never Been A Night Like This" - Alfred, Sarah, Chagal, Rebecca, Magda and Abronsius
"Don't Leave Daddy" - Chagal
"The Invitation" - Krolock, Sarah, Nadja, Zsa Zsa
"A Good Nightmare Comes So Rarely"
"The Devil May Care (But I Don't)"
"Sometimes We Need The Boogeyman"
Scene 4: Outside The Inn, Next Day
"Death Is Such An Odd Thing" - Rebecca, Madga
Scene 5: Outside the Inn, That Evening
"Braver Than We Are" - Sarah, Alfred
"Red Boots Ballet" - Sarah, Dancers, Krolock
"Say A Prayer" - Company
Scene 6: The Castle Gate
"Say A Prayer" (continued) - Company
"Come With Me" - Krolock
Act IIScene 1: The Great Room
"Vampires In Love (Total Eclipse of the Heart)" - Sarah, Krolock, Vampires
Scene 2: A Hall In The Castle
The Library
"Books, Books" - Abronsius, Krolock
The Bed
"Carpe Noctum" - Company
"For Sarah" - Alfred
Scene 3: The Search Through The Castle
"Something To Kill (Our Time)" - Vampires
Scene 4: The Crypt Of The Von Krolocks
"Death Is Such An Odd Thing" (Reprise) - Rebecca, Magda, Chagal
Scene 5: Herbert's Room
"When Love Is Inside You" - Alfred, Herbert
Scene 6: Sarah's Room
Scene 7: The Castle Graveyard
"Eternity" - Vampires
"Confession Of A Vampire" - Krolock
Scene 8: The Ballroom
"The Ball: The Minuet" - Abronsius, Alfred, Herbert, Boris and Vampires
"Never Be Enough" - Krolock and Vampires
"Read My Apocalypse" - Krolock
Scene 9: The Wilderness
"Braver Than We Are" (Reprise) - Sarah, Alfred
Scene 10: The Finale
"The Dance Of The Vampires" - Company
*Dance of the Vampires begins previews Oct. 14 and opens Nov. 21 at Broadway's Minskoff. Tony Award winning John Rando (Urinetown) directs and John Carraffa (Urinetown, Into The Woods) choreographs the musical based on the Roman Polanski film "The Fearless Vampire Killers." Music and lyrics are by Steinman, book by Ives, Steinman and Michael Kunze (who is also credited with the original German book and lyrics).
Tony Award winner Michael Crawford (The Phantom of the Opera) heads the cast as Count von Krolock with Rene Auberjonois (City of Angels) as Professor Abronsius, Max von Essen (Jesus Christ Superstar) as Alfred, Ron Orbach (Laughter On The 23rd Floor) as Chagal, Mandy Gonzalez (Aida) as Sarah and Asa Somers (The Rocky Horror Show) as Herbert. Joining them will be Liz McCartney as Rebecca, Leah Hocking (replacing Julia Murney) as Magda and Mark Price as Boris.
The Vampires ensemble includes David Benoit, Alyssa Claar, Lindsay Dunn, Jocelyn Dowling, Edgar Godineaux, Ashley Amber Haase, Derric Harris, Kerrin Hubbard, Robin Irwin, Terace Jones, Larry Keigwin, Brendan King, Heather McFadden, Raymond McLeod, Erin Leigh Peck, Nathan Peck, Andy Pellick, Joye Ross, Solange Sandy, Jennifer Savelli, Sara Schmidt, Jonathan Sharp, Doug Storm, Jenny Lynn Suckling, Timothy Warren and Jason Woote. Jekyll & Hyde's Robert Evan will serve as the standby for Crawford and Auberjonois.
Category
Dance of the vampires