Tim Burton to Helm Batman: The Musical
08/30/2002 - 00:00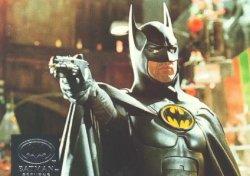 Tim Burton, who directed the films Batman and Batman Returns, is now attached to the Broadway-bound Batman: The Musical. The tuner is planning a 2004 out of town tryout in hopes of reaching the Great White Way in 2005, according to The New York Post.



"We're thrilled he's going to do it," composer Jim Steinman told The Post. "[Librettist] David [Ives] and I floundered around for a year trying to figure out how to musicalize Batman. Then we looked at Tim's original movie and thought, that's it."



In addition to the first two movies of the Batman franchise, Burton's film credits include Frankenweenie, Pee-Wee's Big Adventure, Beetlejuice, Edward Scissorhands, Ed Wood, Mars Attacks!, Sleepy Hollow and Planet of the Apes. He is the winner of the 1990 Director of the Year ShoWest Award. His latest film, Big Fish, is slated to be released next year. Batman: The Musical will be his first crack at directing a stage tuner.



While it is still in development, Batman: The Musical currently features the characters of Batman, Robin, The Joker and Cat Woman. Warner Brothers (the company that is also behind the Batman films) is set to produce the project, which will reportedly cost a minimum of $15 million.
Category
Batman the musical